Have you ever heard of the Pendletones? They were formed in 1961 in Hawthorne, CA. They were managed by their dad, Murry and signed to Capitol Records in 1962.
But on September 15, 1961, they attend their first real recording session at Hite Morgan's studio in Los Angeles. They failed to impress publishers Hite and Dorinda when they performed the ballad "Their Hearts Were Full of Spring". But Dennis mentioned they had an original song they were working on. Hite was interested and asked the boys to come back when it was finished.
With help from Mike, Brian finished the song and they practised for three days before auditioning again with their original song "Surfin". In October, The Pendletones recorded 12 takes of "Surfin". A small number of singles were pressed on the Candix Records label. When the boys unpacked the first box of singles, they were shocked to see their band name changed to "Beach Boys". Apparently a young promotion worker, Russ Regan, made the change, and with their limited budget, they could not be reprinted.
And that is how brothers Brian, Dennis and Carl Wilson along with their cousin Mike Love and friend Al Jardine became The Beach Boys.
And how did they get their original name? It came from the Pendleton wool shirts surfers loved to wear at the time.
researched on Wikipedia, the free encyclopedia, and others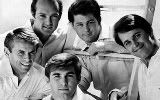 You can find The Beach Boys LP Vinyl Albums in my Addoway store!
h
ttp://www.addoway.com/donnasstuffmore/storefront/
h
ttp://pinterest.com/donnasstuffmore/