This is my favorite recipe from the New Better Homes & Gardens Cook Book from 1968. It hasn't been in newer editions for a long, long time. I usually cook this in my crock pot all day after browning the meat. I add the vegies about 45 minutes before dinner. It is a much spicier version than I've found elsewhere. Enjoy!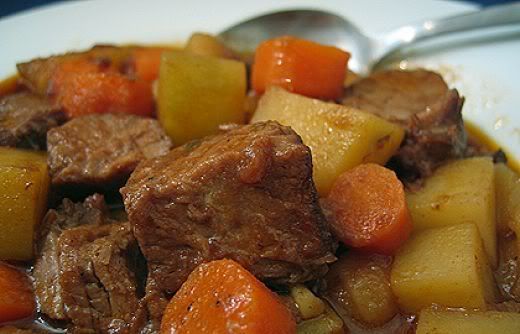 Old-Time Beef Stew

2 pounds beef chuck, cut in 1 1/2 inch cubes
1 tsp. Worcestershire sausce
1 clove garlic
1 medium onion, sliced
1 or 2 bay leaves
1 tbsp. salt
1 tsp. sugar
1/2 tsp. pepper
1/2 tsp. paprika
Dash ground allspice or cloves
6 carrots, pared and quartered
4 potatoes, pared and quartered
1 pound small white onions
Gravy

In Dutch oven, thoroughly brown meat in 2 tbsp. shortening, turning often. Add 2 cups hot water and next 9 ingredients. Cover; simmer for 1 1/2 hours, stirring occassionally to keep from sticking. Remove bay leaves & garlic. Add vegetables. Cover and cook 30 to 45 minutes, or till vegetables are tender. Serves 6 to 8.

For gravy: Skim most of fat from liquid; measure 1 3/4 cups liquid. Combine 1/4 cup water and 2 tbsp. all-purpose flour till smooth. Stir slowly into hot liquid. Cook and stir until bubbly . Pour over stew. Serve in bowls.